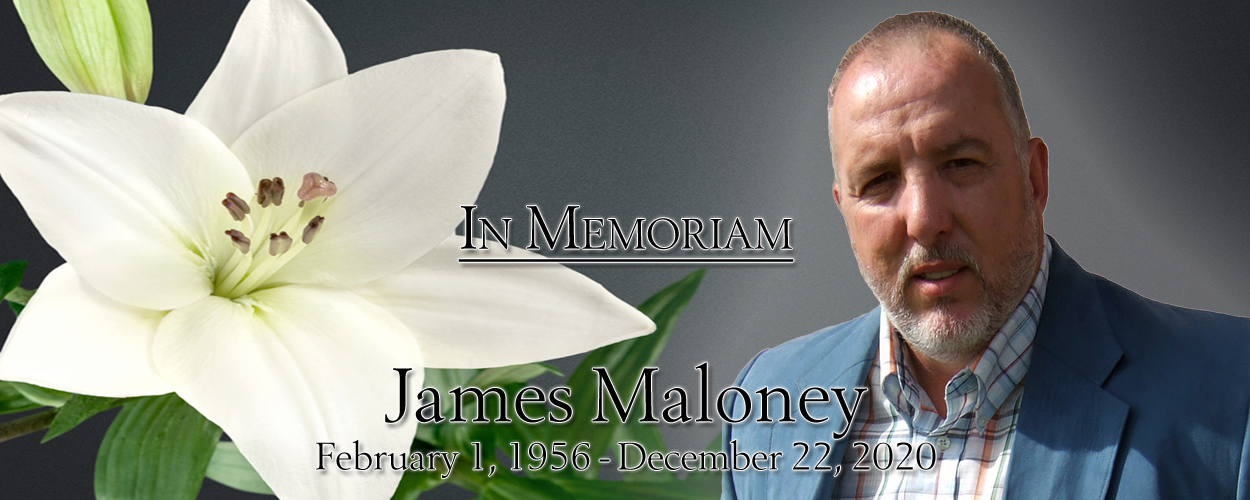 It is my very sad duty to inform you all that my father, James Maloney, passed away at 8:30pm, December 22, 2020, from COVID-19 complications. He was five weeks short of his sixty-fifth birthday. 
While our hearts are heavy, knowing we will be separated from him for yet awhile, we take comfort in honoring his legacy as a genuine man of God: a loving husband, father and grandfather, and a dedicated servant of our Lord and Savior, Jesus Christ. For forty-five years, James ministered to tens of thousands of people in thirty-seven countries and forty-eight States, seeing some of the most remarkable signs, wonders, miracles and healings, while bringing the gospel and the personal word of the Lord to so, so many. We are firmly persuaded his homegoing was an occasion for tremendous celebration. 
Dove on the Rise International will continue to remain in operation, headed up by his family per his directives. He asked my mother, Joy Maloney, to commit his more than forty-five years of teaching materials to digital format (MP3s and e-books) to preserve for future generations, and we are going to ensure his wishes are fulfilled. This website will be turned into a hub for all of those materials.
Further, the associates of Dove on the Rise, headed up by Executive Associate, John Proodian, will continue to operate in a similar flow of itinerant ministry as James, who mentored them for several years, ensuring that the motivation, integrity and anointing that drove James' ministry is duplicated in theirs. The Board of Directors for our ministry will remain intact.
Dove on the Rise goes beyond just James Maloney as a singular minister, and we anticipate his legacy will be represented through us for generations to come. For that reason, we are encouraging all of you who support our ministry on a regular basis to continue doing so. We will posting regularly here with updates.
Per James' request, we are not having a public funeral, and in lieu of flowers, please make donations through this website to help support James' grieving family.
Thank you all for your prayers, love and support throughout the years. The body of Christ has lost a true General in the faith, a Dove in the Company of believers, but we know his heritage will live on through his children and grandchildren, and the wonderful people that God brought into his path.
Dad, Godspeed you to your inheritance and rest. You are loved, you are honored, you are missed—but we'll see you again real soon. Say hello to everyone who's gone before us.
In His service and yours,
Andrew Maloney
Dove on the Rise International
"For if we live, we live to the Lord; and if we die, we die to the Lord. Therefore, whether we live or die, we are the Lord's." (Romans 14:8)